Ten Things I Have Learned Raising A Daughter As A Geek Dad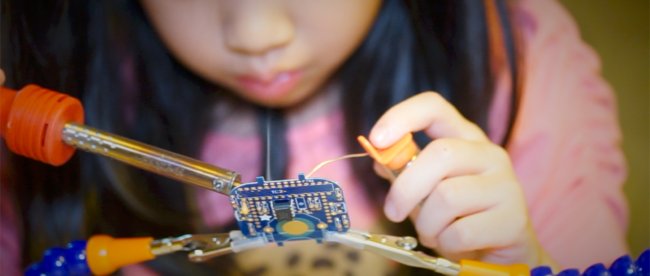 Raising a daughter, or kids for that matter is no easy task. Unlike unboxing a gadget or building something, there isn't a manual.
These are the "Ten Things That I have learned from raising a Daughter as a Geek Dad.
Girls can do anything boys can, maybe except pee standing up but pretty much everything else. ( I actually hear they have figured this one out too)
7 yrs old is not too young to have her take apart a computer and put it back together again.
Small hands tend to gravitate towards the hot end of soldering iron. It happens more easily than you think. Good thing is, it usually happens once and they seem to be more careful after that.
Wife is never too happy when your girl prefers jeans and a tee-shirt when asked to pick out something nice to wear.
You start off wanting her to learn the joys of reading, but then quickly regret and realize you have created a monster when she blows through the harry potter series in 2 days.
Sometimes, she's not listening because she already understands the problem. She's just starting to get bored with your long winded explanation, and wants to get on with it.
You have to live with the fact that she will not love Star Wars as much as you do. Yet she will sit through a Marvel movie with you anytime (Just a different generation).
It is very cool to learn a new language together (Swift, Obj C, Scratch).
At 7, she can already play electric guitar better than I ever could.
And finally, if you are the one who helped guide her through all of the above, you both will have memories that will be cherished for a very long time. Especially through the teen years when she starts slamming doors and wants to be dropped off 2 blocks away from school 🙂
Well thats it.  I'm sure this list will continue to grow as I learn more. I'll have my assumptions turned upside-down, and numerous other challenges ahead. But in the end I know that in spite of the ups and downs, I'll be undoubtedly surprised and proud of the JuniorGeek.
SUBSCRIBE to the Purple Oranji Youtube Channel